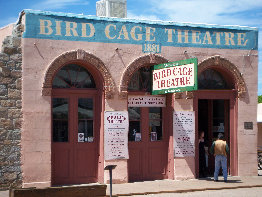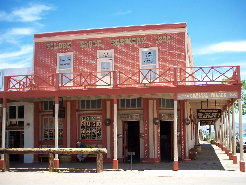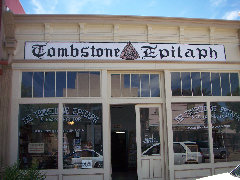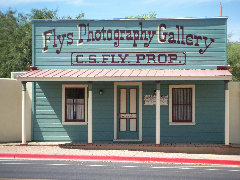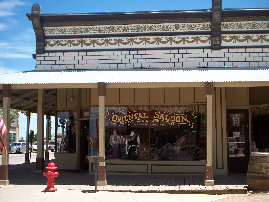 In 1877, prospector Ed Schieffelin roamed the dangerous barren lands of Southeastern Arizona in hopes of striking it rich. Every day he searched the rocks & sands keeping hidden from the savage Apaches who lived there. When asked why he risked his life out there he replied that he "only went to collect stones." The soldier warned him that if he continued to move among the Apaches the only stone he would find would be his Tombstone. His persistence paid off & the first claim he discovered he named Tombstone. Ironically, the Tombstone claim proved worthless but he did ultimately strike it rich with the Grand Central, Lucky Cuss & Contention mines. As news of the strike spread, the area attracted more miners, settlers, businesses & of course cattle rustlers, gamblers, gunslingers, saloons & bordellos. When the area became a town the name was obvious, Tombstone. Tombstone survived two major fires, but when the mines played out, Tombstone almost became a ghost town. Today, the town has been rebuilt to its former glory & "The Town Too Tough To Die" lives on as one of the most popular tourist attractions in America. Click image to enlarge.
Tombstone
"The Town To Tough To Die."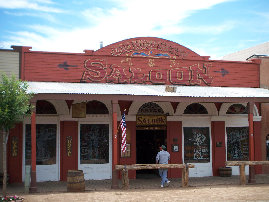 Referred to as "the wildest, wickedest night spot between Basin Street & the Barbary Coast" by the NY Times, The Bird Cage was the most famous honky tonk in America between 1881 & 1889. It was here that Wyatt Earp met Josephine "Sadie" Marcus with whom he stayed until he died in 1929.
The Oriental Saloon was the Crystal Palace's main competition & was considered to be the most elegant saloon between Chicago & San Francisco. The Earps owned a gambling interest here. Virgil Earp was departing the Oriental when he was ambushed.
In its prime, Tombstone had 110 establishments licensed to sell liquor. Built in 1879, The Crystal Palace was the most elegant & the most popular. The second story was for offices for Marshal Virgil Earp, Sheriff Johnny Behan & others.
The structure that once stood here was The Grand Hotel & was one of the most luxurious hotels in the state. It was devastated in the fire of May 25, 1882. It was rebuilt as Big Nose Kate's Saloon. The bar inside is the original that survived the fire & patrons today can drink at the same bar that once welcomed the Earps, Clantons & Doc Holliday.
Camillus Fly & his wife Molly came to Tombstone in 1879. They opened a photography studio & boarding house & were an immediate success recording Tombstone's history on film. A mortally wounded Billy Clanton was taken to Fly's boarding house where he later died.
On May 1, 1880 John Clum printed the first edition of the Tombstone Epitaph. Clum printed an extensive article of the trial that followed the gunfight. The Epitaph still operates today as a journal of western history.