Freedom Trail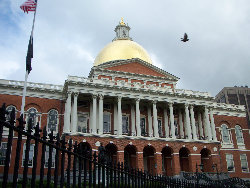 Freedom Trail is a red brick walkway that guides you through downtown Boston & passes most of the more popular historic sights. It was established in 1958 at the suggestion of local journalist William Schofield. The trail is made of 513,654 red Medford bricks laid out in a double English bond pattern.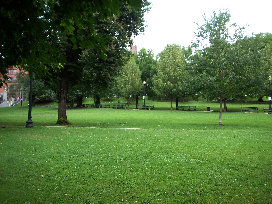 The trail begins at Boston Common. The 50 acre park is part of a network of Boston parks known as the Emerald Necklace. Established in 1634 as a public patch of land, it's our country's oldest park & has served a number of purposes throughout it's history. It was used for cattle grazing until 1830 & until 1817 it served as a site for public hangings. It was at this site that the British camped in 1775 before facing the colonists at Lexington & Concord.
Built in 1795 to 1797, Massachusetts State House is the state capital & seat of government for Massachusetts. It was designed by self-taught architect Charles Bofinch who also designed state houses for Connecticut & Maine & the rotunda & dome for the U.S. Capital. The dome was originally made of wood, then replaced with copper in 1802 then gilded with 24k gold in 1861. The pinecone on top of the dome symbolizes the forests of Massachusetts.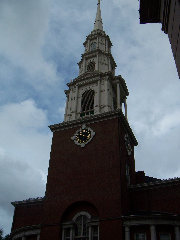 Park Street Church was founded in 1809. It's an active Evangelical church boasting a congregation of 1,900 members from 60 countries. It is also known as Brimstone Corner because gunpowder was stored here during the War of 1812. The impressive steeple rises 217 ft. The first Sunday school occurred here in 1818 & the first prison aid in 1824. "My Country Tis of Thee" was first sung here in 1831.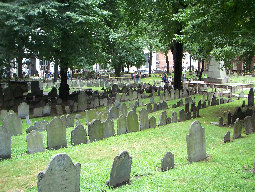 Adjacent to Park Street Church is Granary Burial Ground. Founded in 1660 it's the 3rd oldest cemetary in Boston. Originally called South Burying Ground, it was renamed the Granary in 1737 when grain was stored at the site of Park Street Church. Whole families were buried togethery so, although there are only 2,300 markers, some say there are as many as 8,000 bodies buried here. Among those are Paul Revere, Ben Franklin's parents & three signers of the Declaration of Independence: John Hancock, Samuel Adams & Robert Treat Paine. Puritans used tombstones as a way of expressing their belief in the afterlife. One of the most popular symbols was the soul effigy, a skull with wings that represents the soul flying to Heaven.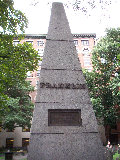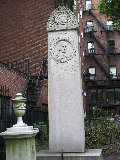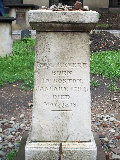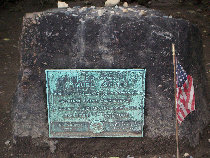 Ben Franklin's Parents' grave
John Hancock grave
Paul Revere grave
Samuel Adams grave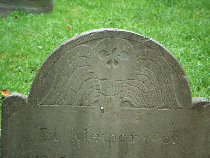 Soul Effigy
Click image to enlarge