With a population of over 560,000 & growing, Seattle is the largest city in the Pacific Northwest. Located between Puget Sound & Lake Washington, the area is a beautiful region of mountains & forest. Traditional wisdom credits Seattle's founding by European settlers to the Denny party, a ten member family who, on April 10, 1851 left Cherry Grove, IL and staked a claim to a region known as Alki Point on November 13, 1851. Seattle has several nicknames including "Gateway to Alaska" because Seattle was the main port where prospectors, both experienced and inexperienced, would gather supplies & head to Alaska in search of striking it rich during the Klondike Gold Rush of the late 19th century.
The iconic Seattle Space Needle was built for the 1962 World's Fair. It is 605 ft high, 138 ft wide & weighs 9,550 tons. It can withstand winds up to 200 mph & earthquakes up to 9.5 magnitude. It has 25 lightning rods to protect against lightning. The googie architecture design it exemplifies is a combination of businessman Edward Carlson's tethered balloon idea & architect John Graham's flying saucer design.
Invented in 1822 by French physicist Augustin Fresnel, this first order Fresnel lens was shipped to Destruction Island in 1888 for use in the Destruction Island Lighthouse 50 miles north of Westport on the Washington coast. Able to catch 83% of its light, this type of lens can throw its beam 26 miles & made Fresnel's name commonplace along the seacoasts of Europe & North America. The lens has 1,176 prisms & 24 bull's-eyes that act as a magnifying glass. The 18-foot tall, two-ton lens is displayed at the Westport Maritime Museum. There is a restaurant near the Museum that has the best seafood I ever tasted outside Louisiana.
The Science Fiction Museum & Hall of Fame is located at the base of the Space Needle. It was founded by Jody Patton & Microsoft co-founder Paul Allen & opened to the public on June 18, 2004. The collections on display include Captain Kirk's command chair and the B9 robot from Lost in Space. I'm not a big fan of museums, but this one is pretty cool & a must-see for anyone visiting Seattle.
Mt. St. Helens is an active volcano located in the Cascade Range 96 miles south of Seattle & was named after British diplomat Lord St. Helens, a friend of explorer George Vancouver who surveyed the area in the late 18th century. The mile-wide crater was left when it erupted on May 18, 1980 reducing the mountain's elevation from 9,677 ft to 8,365 ft. The eruption killed 57 people & destroyed 250 homes, 47 bridges, 15 miles of railways & 185 miles of highways.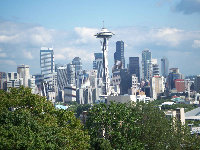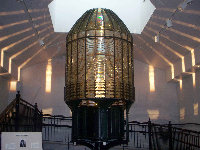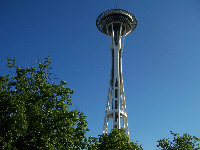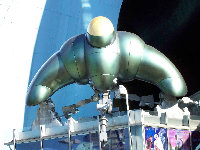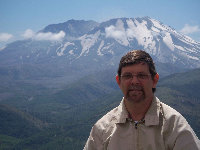 Click image to enlarge.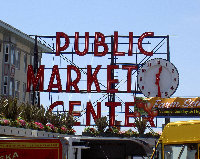 Pikes Place Market is a public market overlooking the Elliott Bay Waterfront. The market opened August 17, 1907 & is one of the oldest continuously opeated farmers' markets in America.