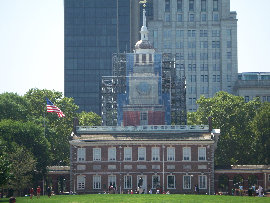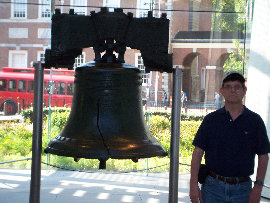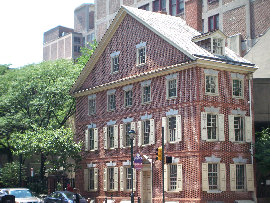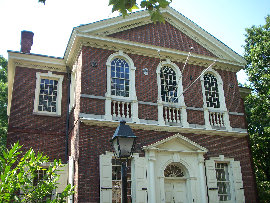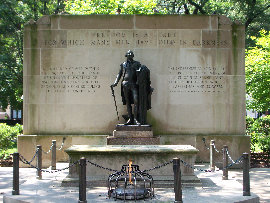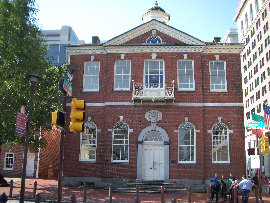 Me at the Liberty Bell
Declaration House where Jefferson drafted the Declaration of Independence in those top 2 rooms
Congress Hall
Tomb of the unknown Revolutionary soldier. The inscription says it all.
Carpenters Hall. Sec of War Henry Knox HQ'd here in 1790 making it the first Pentagon.
Independence Hall. 2nd Continental Congress met here 1775-1783. Dec of Independence & US Constitution were debated & adopted here.
On February 28th, 1681 Charles II granted a land charter to William Penn to repay a 16,000 lb debt owed to William's father. That's over 2,000,000 lbs in todays money. It was one of the largest land grants to an individual in history. Penn established a government with two innovations: a county commission & religious freedom. Penn enjoyed friendly relations with the local Lenni-Lenape Indian tribe having signed a peace treaty with their leader, Tammany. That treaty was never violated. By the 18th century, Philadelphia was a bustling center of culture & industry & would ultimately become America's first capital.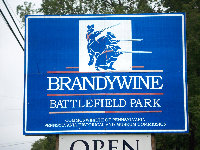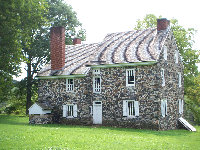 During the Pennsylvania campaign of 1777, the British objective was to take the American capital of Philadelphia. On Sept 9th Washington placed his troops along the Brandywine River from the southern most crossing at Pyle's Ford to the northern most crossing at Wistar's Ford. In so doing, Washington hoped to force a confrontation at the high ground near Chadd's Ford. A decoy detachment of British troops engaged Washington at Chadd's Ford while the main body under the command of Gen. Howe marched north of Wistar's Ford crossing the Brandywine at a ford unknown to Washington & advanced south into the American flank. The Americans fought bravely but they were caught completely by surprise & in the confusion were forced to retreat. With the defeat at Brandywine, the Continental Congress was forced to abandon Philadelphia & on September 26th, 1777 the British marched into Philadelphia unopposed & began an occupation that would last until June 1778.
Gilpin House ~ Washington's HQ at Brandywine
Click image to enlarge