Led by Brigham Young, the Mormons began settling the valley of the Great Salt Lake in what is now northern Utah in 1847. In 1848 the Mormons petitioned for the formation of the Utah territory & in 1850 the Utah territory was formed. Almost all of the land in the territory was acquired from Mexico in the Treaty of Guadalupe Hidalgo of 1848. The area began to attract larger numbers of non-Mormon pioneers with the discovery of silver at the Comstock Lode in 1858. Mormon governance of the territory was highly controversial due to newspaper accounts of polygamy practiced by its members. This controversy was the primary reason for delaying Utah admission into the union as the 45th state until 1896.
The United States is home to many man-made marvels such as the Empire State Building & Mt. Rushmore. But, in my opinion, none of them compare to the spectacular natural wonders that this great country has to offer & those found in Utah are among the most breath taking. From beautiful sandstone formations (some of which seem to defy gravity), to great expanses of petrified dunes & panoramas that can only inspire awe & amazement, Utah offers an experience unlike any you will find anywhere else on earth. I hope my feeble photography skills will inspire you to one day visit this wonderful area of America which is Utah.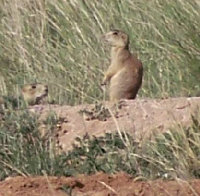 The desert is home to a surprising amount of wildlife, the most cagey of which is the noble prairie dog (Cynomys parvidens). Not a dog at all, but rather a burrowing rodent, these highly social animals construct a tunnel network with individual tunnels descending as much as 16 feet & extending laterally as much as 98 feet. The dogs actually line the tunnels with insulating grass and the mounds of excavated dirt are carefully maintained as lookout platforms. The tunnels also serve to channel rainwater preventing runoff & erosion.
Click Image to Enlarge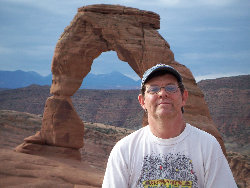 Me at Delicate Arch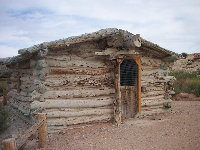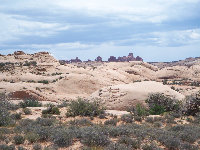 These ancient dunes are erroneously referred to as "petrified" which would indicate that they were once organic, like wood. Here the term simply means sand hardened into rock.
At the start of the trail to Delicate Arch lies the Wolfe ranch house. The area was settled in the late 1800's by John Wesley Wolfe & his son who came west from Ohio. They lived there for more than a decade when, in 1906, his daughter Flora, her husband & their children came to live on the ranch. Shocked by his primitive conditions, Flora convinced John to build a new cabin with a wood floor. Pictured here is that upgrade. In 1910 they moved back to Ohio where John died on October 22, 1913.
Wolfe Ranch House
Utah Prairie Dog on sentry patrol.
Petrified Dunes
Click Link Below to View: